About Eklund
Unmasked & Anonymous: Answering Ethical Questions About a Blogger Named Eklund

Eklund began blogging during the NHL lockout, developing a site called Eklund's Hockey Rumors that provided nuggets of information from unnamed sources which were quickly devoured by hockey fans starving for positive news. With an unquestionable passion for all things hockey, Eklund — the name came from Pelle Eklund, a former player with his favorite team the Philadelphia Flyers — claimed to have sources inside the negotiations between the players and the owners, and would boldly (and falsely) predict milestones along the way towards labor peace.
Although his rumors' hit-to-miss ratio would have made him the world's worst Battleship player, his blog blew up; Eklund was being interviewed by the likes of ESPN's Darren Rovell and was going ahead with a plan to create HockeyBuzz, a site with blogs from professional writers and NHL players, along with his own daily scuttlebutt. Since Sept. 2005, HockeyBuzz has expanded dramatically: including fan blogs, podcasts and a subscription service for added access and "exclusive" rumors from the man himself. Eklund has landed several regular radio gigs, including one with XM. He also was a featured "insider" on Sportsnet Canada's Trade Deadline TV Special earlier this year — an appearance that was viciously panned by both The Toronto Star ("More food is delivered to the Sportsnet set. It isn't clear whether Eklund had predicted the arrival of more pizza.") and the Globe and Mail ("Eklund reported that Smyth had signed a new contract with Edmonton. That was wrong, too." ) Eklund said he isn't sure what Sportsnet's plans are for next deadline; he's leaning towards not having a second go-round, and instead concentrating on breaking news on his blog.
Despite that success, Eklund's reputation has taken more hits than Eric Lindros's cerebellum. The mere mention of his name on sites like the HF Boards draws more jeers than cheers. While there should be no question about the legitimacy of many of his informants, he has been known to cultivate his rumors from such solid sources as Carolina Hurricanes fans on Internet message boards and callers to WFAN in New York. And following that great advice about keeping your enemies closer, Eklund has also offered jobs to his toughest critics, as FanHouse's own Jes Golbez found out first hand.
One of the most controversial aspects of the Eklund legend is his biography. The background he had given to ESPN was in direct contrast with the fanciful origin story he gave FanHouse's Eric McErlain in an early (and must-read) interview in 2005. Self-aggrandizing aside — I still love the part about having written a book that sold so well he no longer had to work full-time — the fact was that the official bio on his Web site changed significantly after he began attracting a larger audience.
My theory had always been that Eklund kept his anonymity partly because the public confirmation of his real name — Google "dwayne" and "klessel" and "eklund," but you ain't heard that from me — would solidify the contradictions in his biography. And we're talking George O'Leary-level contradictions: Saying he worked for the NHL in one bio and saying he had nothing to do with hockey after college in the other. In the context of the PHWA and professional journalism in general, biographical pissings aren't taken too lightly. "In most cases, if he made up a resume, he'd be fired," said Allen.
So how does Eklund explain the dueling bios? He's given the answer to the writers on his site, to some members of the Professional Hockey Writers Association and to NHL officials. And while he wouldn't confirm it on the record with me — please note he would not deny it, either — here is that answer:
Eklund worked for the NHL under both John Ziegler and Gary Bettman. Eklund interned with the Quebec Nordiques. Eklund wrote for the Hockey News. Eklund did all of these things, even though Eklund also had nothing to do with hockey after graduating from college. This is because Eklund — at least in the pre-HockeyBuzz, rocket-to-lockout-stardom days — wasn't a person.
"He" was a committee.
Eklund was the byline, but the information about high-level ownership meetings and inside scoops from the NHLPA came from a consortium of plugged-in individuals that wanted to break through the spin machine and speak directly to the fans. The biography on the site was crafted together from different members of this League of Extraordinary Eklunds.
It is my belief that the "blogger by committee" apparently ended when HockeyBuzz started, although Eklund would neither confirm or deny that. Eklund said, on the record, that he writes every blog that appears under his shadowy picture — and next to what is the "correct" biography for the current incarnation of the anonymous hockey blogger.
But close one door and another opens: McErlain told me that original interviewwasn't conducted in the third-person, although that's what Eklund now claims. More importantly, Eklund — pictured below at this year's NHL Draft in Columbus — began offering an "insider" service for a subscription fee to readers on his old blog; how many were hoodwinked by what's now clearly just a fairy tale instead of one maverick fan who "personified the passion and ache so many of us felt in that sorry solitude?"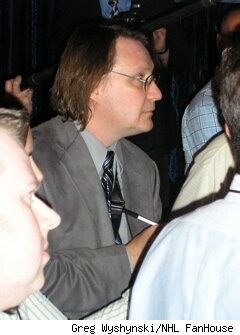 His biography wasn't the only issue in conflict with professional standards.Eklund has long been accused of coming to his own defense under different names — including "Susan" and "Flyguy31″ — on critical blogs like that of Paul Kukla, an NHL.comcolumnist and founder of the popular hockey news site Kukla's Korner. "I have him dead to rights," Kukla said. "I've got his IP [address] from the damn arena in Edmonton and from his hotel in North Carolina." Another instance was recorded by a Hurricanes blogger named The Acid Queen, who claimed she tracked a pro-Eklund commenter under the name "ESPN HOCKEY GUY" back to a Philadelphia IP address. "ESPN HOCKEY GUY" also made an appearance on a post critical of Eklundon Fox Sports contributor Mike Chen's blog. The Acid Queen also published what she said was a contentious Instant Messenger conversation between she and Eklund, who told me it wasn't his AIM account and that it was someone claiming to be him — a common problem for him all over the Web, he said.
There have also been cases in which bloggers critical of Eklund have received anonymous e-mails regarding their posts, either defending him or attacking them.FanHouse's J.P. was one of those bloggers; Eklund would follow up with an e-mail claiming he had nothing to do with the insulting original message to Japers' Rink.
Allen said he and the PHWA are aware of these accusations, which from a journalistic standpoint are quite serious: Not even a Pulitzer Prize could save L.A. Times columnist Michael Hiltzik from punishment for message board sock-puppetry, while Lancaster Intelligencer Journal reporter Justin Quinn's anonymous comments got him canned.
But Eklund made it crystal clear to me: He's never gone on someone else's message board under (another) pseudonym to defend himself, and he's never sent an anonymous e-mail to another blogger. "I don't even know how to send an anonymous e-mails, even though they're sent to me."
He said he didn't want to get into a pissing match with Kukla over his claims because he avoids this kind of "he said, she said" on his blog. But Eklund said Kukla never sent him "the proof" about the IP address situation, and sees it as part of a larger disinformation campaign that specifically targets him. While he had his theories about how the IP addresses may have in fact been spoofed, he refused to go on the record with them. "I'm not a computer guy like [Kukla] is, so I don't know how that's even done."
He may not be a computer guy, but for the PHWA he's been the voice of hockey blogging. Eklund was invited to speak to the PHWA in Dallas during the NHL All-Star Game festivities; introducing himself with his real name, he was involved in a discussion about credentials for hockey bloggers. "It didn't go particularly well," said Allen, "but I bear some of the responsibility for that because of where he was placed on the agenda. It was late."
Much of the internal debate about bloggers in the PHWA has centered around issues of accountability. "Bloggers are a one-man band. If you're unhappy with how a blogger is conducting his or herself, the only recourse is to go to the blogger," said Allen.
Eklund, who considers himself a "de facto" member of the PHWA, said his blog has plenty of accountability, including liability insurance and having to answer to his investors and advertisers. "I think I've proven myself accountable. I think the greatest accountability is to your readers and to your advertisers," he said. "There's no one protecting me. If I want to maintain my relationship with the NHL, I can't be a jerk."
When asked about the editorial accountability many PHWA members have, he said the best thing about bloggers is that they don't have editors to answer to. "With their chain of command, there are pluses and minuses. There are a lot of writers who would rather be blogging for me right now then their newspapers because their newspapers don't get a lot of traffic," he said.
Eklund has received a chilly reception from some PHWA members off the record and behind the scenes. "Every writer that I talked to at that draft, 99% of them absolutely hate the guy [because] they have to go and chase stories," said Kukla. The fact is that HockeyBuzz is a gossip site with destination readership and a catapult for innuendo, with the mainstream media trying to keep up despite the shackles of professional conduct; forcing hockey writers like Michael Russo of the Star Tribune to chase down ghosts.
There's no denying that Eklund now has legitimate sources; if not with NHL franchises themselves, then with player agents and even within the top brass of the NHL, including a relationship with commissioner Gary Bettman. Yet he continues to mix the occasional breaking news with dozens of false leads, bad information andoutlandish proposals. Allen said when it comes to the PHWA, there are plenty of different kinds of writers under the tent — from columnists and rumor-mongers to feature writers — so Eklund's chosen form of hockey writing isn't an issue. In the end, and even before questions about his ethics would even be addressed, there's only one primary reason why Eklund will not be admitted into the PHWA.
It's the very thing that's brought Eklund both fame and infamy: his anonymity.
"In order to be a part of our organization, you have to have your name out there so you have the accountability for who you are," said Allen. "Eklund is sort of a shtick, with his anonymity being part of his entertainment value, and we are simply not going to admit him because of that. It's a deal-killer, and he's aware of that. Most people know who he is. But on his Web site he doesn't identify himself, and because of that we will not admit him."
The PHWA has decided over the course of its last two meetings to maintain its existing policy on bloggers — which is to let local chapters decide on local membership applications. "What we're saying is that local chapters know their area and know what's best," said Allen. "In Philadelphia [where Eklund is located], it's up to the local chairperson, Tim Panaccio, to make the decision about local bloggers." Panaccio, the Flyers beat writer for the Philadelphia Inquirer, was one of the firstprofessional journalists to blog on HockeyBuzz for Eklund. Allen said Panaccio's status as both the local PHWA chair and a paid HockeyBuzz columnist isn't a conflict of interest when it comes to Eklund; just like with the national association, Eklund's anonymity prohibits his joining the local chapter as well. Allen also said that while the PHWA may question Eklund's standards and ethics, he has no problem with PHWA members like Panaccio writing for the blogger's site.
In fact, Allen said "a couple of [HockeyBuzz] writers could get in" before Eklund could. So the obvious question is: Why keep up the charade? Why not publish under a real byline, with a real bio, offering the kind of transparency that would answer Eklund's critics and give him PHWA membership?
It's actually something Eklund has been considering.
"I've thought about it. It is a pain in the ass. I don't have the need for the quote-unquote fame of it all. During the lockout, it was really important to be anonymous. But that was a whole different Eklund, too," he said. "I could always do it. But to me, it's more entertaining this way. If I was to give up the anonymity, the Web site might not be as much fun. There really aren't that many people who care about who Eklund is. The truth is that it's such a tiny group."
When it comes to the PHWA, Eklund said he'd be honored to be a member but understands that remaining anonymous is, as Allen said, a deal-killer. "I have never applied to be a member because I would not want to put people in that uncomfortable position, and I frankly do not believe I should be a member," he said. "I appreciate Kevin Allen having me join in the meetings, as they are very educational, and if I can help clear up any Internet questions I will."
The truth is that Eklund doesn't need the PHWA — he's been embraced by the NHL to the point where access isn't an issue. He said he's working with the organization for the benefit of other bloggers. "There are some great writers out there, and they should be recognized," he said, adding that he one day hopes to have a better relationship with many of the bloggers who are critical of him.
So if he never becomes a member of the Professional Hockey Writers Association, does Eklund consider himself a journalist, a blogger or both?
"Probably more like an entertainer," he said.